Who are the members of the crew that go on horseback?

In the 'paseíllo', behind the 'banderilleros', go the picadors of each bullfighter; riding

in pairs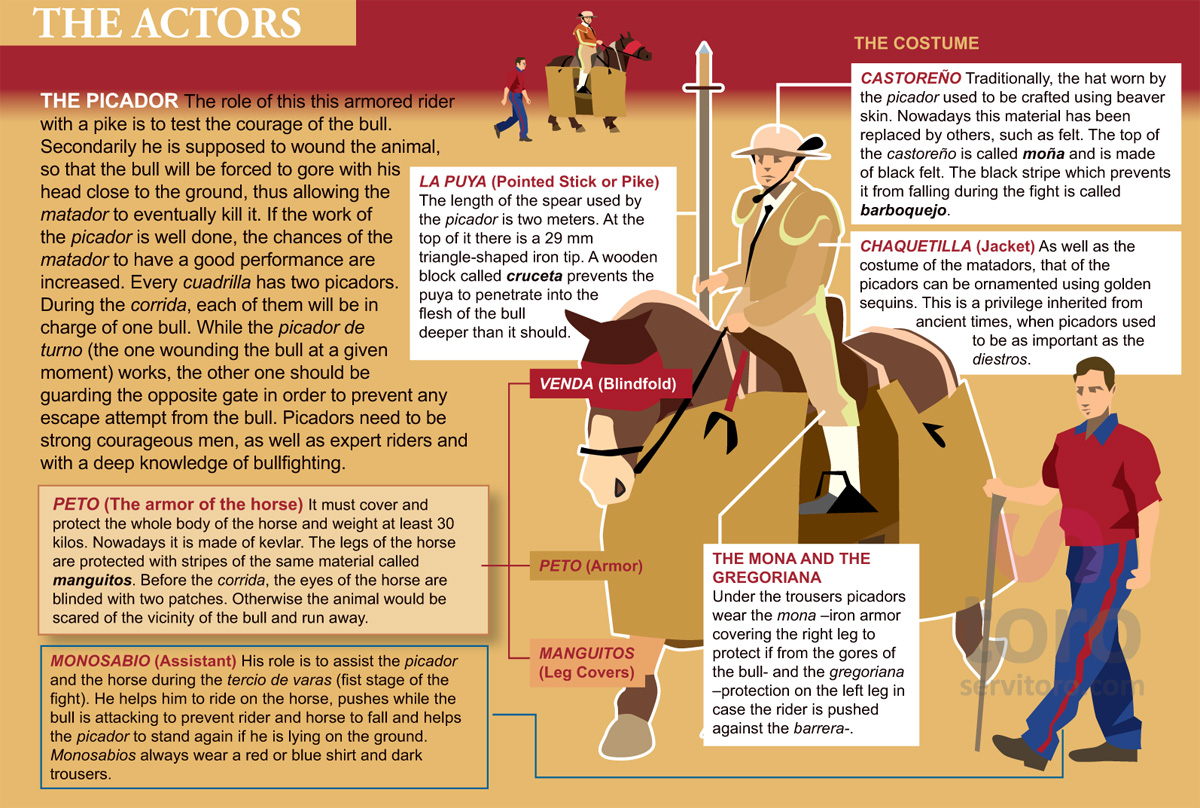 The pica

The tool that the picador uses to carry out its work is a pica or stick that measures more than two meters in length and that has a tip of steel in the end with form of triangular pyramid called 'puya' (pike); hence the name 'puyazo' every time the rider bites the bull. The puya measures 29mm high and a crosshead in its base prevents it from going beyond what is necessary.
The puya must make the animal bleed at the height of the 'morrillo' and thus check its reaction to the punishment, because a tame bull will run away. Depending the times and the way of charging on the horse, bravery is measured.

The protection of the horse
The horse is protected with a breastplate that covers his entire body. Today ones have to weigh less than 30 kilos and are made of kevlar, a synthetic fiber with which the bulletproof vests are made. On the legs it has protections of the same material that are called sleeves. In addition, his eyes are blindfolded to prevent his escape when the bull is pulled.

The 'monosabios'

They are assistant guys who help the picadors and the horses in the bullring during the fight. They help them to mount, they hold the horses in the luck of rods so that they are not knocked down and they help the picador if the horse falls. The clothing they usually wear is a red shirt and blue pants.
Its curious name is due to to a show starring monkeys that performed at Café Cervantes in the middle of the 19th century. Their success and intelligence caused them to be called the wise monkeys ('monos sabios'), and the similarity of their dress with that of the this guys led them to name them in this way.
Happy week, bullfight lovers!
Visited 18 times, 1 visit(s) today
Tags:
bullfight
,
bullfighting
,
bullfighting curiosities
,
Caballo de picar
,
Diccionario taurino
,
horse
Last modified: 23 March, 2020