From this autumn you can enjoy on our website the visits to the Plaza de Toros de Las Ventas by the hand of Las Ventas Tour, thanks to the new collaboration we have established
After the season, at Servitoro we want to continue offering the best to our customers; for this reason we have closed a collaboration agreement with Las Ventas Tour, the company responsible for the guided tours and activities in Las Ventas Bullring, to bring you all the products available through our website. And, you know what ?, it's open all year!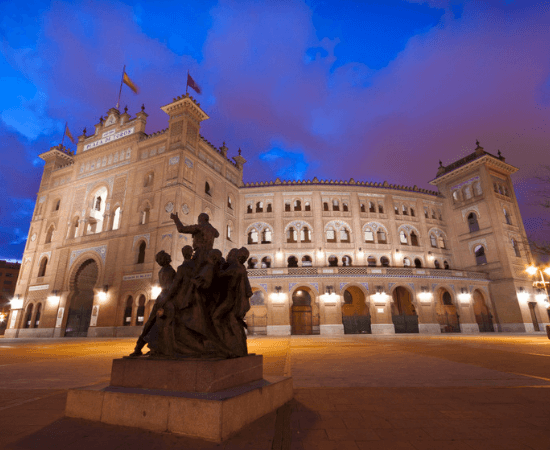 So is; the Monumental Las Ventas, the most important bullring in the world, is open from Monday to Sunday to visit it in the most appealing way.
Individual visit with audio guide: the schedule is free and can be accessed up to half an hour before closing.

Audio guides are available in 10 languages ​​(Spanish, English, French, Italian, German, Portuguese, Russian, Chinese, Korean and Japanese).
The tour lasts approximately one hour and consists of 13 main points: Puerta Grande, terrace, rows, virtual reality (with the possibility of enjoying the game of bullfighting and the Fair of San Isidro in 360º), drag gate, ring, door of bulls, crews door, brave bull, infirmary, chapel, gift shop and Bullfighting Museum.
Private guided tour: available in Spanish, English, French and Russian, it is a way of doing the tour more personalized with an official guide that will explain all the secrets of the place.
Night visit: in July and August you can enjoy this special visit to Las Ventas illuminated.
Visit + 'toreo de salón' (bullfighting in the ring without bull, to train): for those who want to know in depth the fight of the bull, the students of the Bullfighting School of Madrid perform demonstrations in the arena.
Visit + flamenco dinner: an authentic experience to end the visit with a tasting menu served in the Sala Alcalá accompanied by the performance of a flamenco tablao.

Unforgettable!

Visit + visit to livestock: if after visiting the bllring you want to know more about the brave bull, you can complete it with the excursion to the cattle ranch of San Isidro, near Madrid.
Visit to livestock: a private visit to the livestock of Fernando Guzmán, in the Sierra Madrileña, to learn about the fighting bull.
As you can see, there are a lot of possibilities to not lose detail and now even closer, with Servitoro.
Happy week, bullfighting lovers!