Las Ventas and La Maestranza announce their respective promotion steer-bullfights cycles for July and beginning of August
With the arrival of summer (which this year has taken a lot to come…), the bullfights are delayed until dusk, the best time of the day to enjoy the ambition of younger bullfighters. The first two bullrings of our country, the Monumental of Las Ventas in Madrid and the Real Maestranza of Sevilla, begin the first week of July their steer-bullfights of promotion. A necessary bet for the quarry and a golden opportunity for young bullfighters.
Royal Maestranza of Sevilla Bullring
The capital of Seville will celebrate between the 5th and the 26th of July, the 33rd edition of its steer-bullfights to promote the new values ​​of bullfighting. The first three will be qualifying and the last, on Thursday 26, will gather the best three in the grand final. This year a total of 41 students from different schools have been presented.
The jury responsible for choosing the finalists and the winner will be formed by the artistic advisors of the Maestranza of Sevilla: Alfonso Ordóñez, Luis Arenas, Finito de Triana and Antonio Ramón Jiménez.
Bullring of Las Ventas, Madrid
The commitment of Plaza 1, the management company, for this summer goes further. Under the name "Cénate Las Ventas" (Get Las Ventas for dinner) in collaboration with the Madrid Academy of Gastronomy and the Regional Ministry of Environment and Territorial Planning of the Community of Madrid, has organized the traditional Contest of Steer-bullfights of promotion with a varied gastronomic offer of products from Madrid that will be offered in stalls placed in the gallery of the high gallery and the adjacent terraces, from 8.30 pm to 1.30 pm.
The public will be able to enjoy the four qualifying steer-bullfights, on Fridays from July 6 to 27, and the grand finale on August 3, with the participation of 12 young bullfighters, three of which will make their presentation at Las Ventas. And in that frame of promotion of the bullfighting, in addition to enjoy ecological meat, cheese of the autochthonous race Goat from Guadarrama, smoked, patties, craft beers or wines of the Denomination of Origin Wines of Madrid. A great plan for summer nights.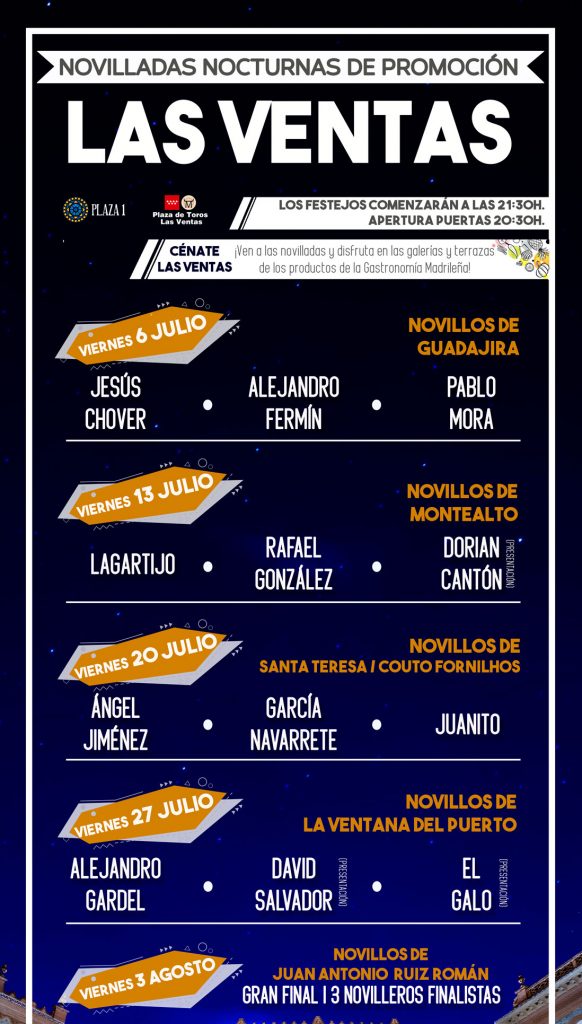 Happy week, bullfighting lovers!