After the resounding Puerta del Príncipe, Pablo Aguado has seen his career take off and his presence in all the fairs is a fact.
Pablo Aguado's fate changed on 10 May at the Real Maestranza. He had entered the stellar line-up of the 2019 Feria de Abril, making the paseíllo alongside Morante de la Puebla and Roca Rey, and that was his twelfth bullfight as a matador. An illusion, a dream, but also an enormous responsibility in front of his public, his Seville. In front of a Jandilla bullfight, Aguado blew the crowd away, cutting four ears and making that afternoon contemporary bullfighting history.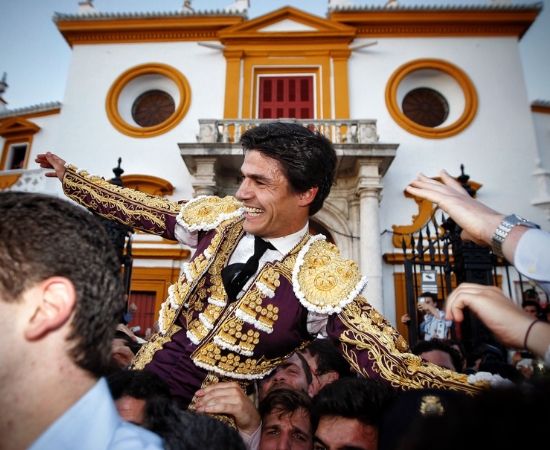 From then we have seen him on all the billboards, in the fairs in which he had entered by right but also by way of substitution; the difficult gap left by Roca Rey has naturally been filled by him and fulfilling expectations, like that first one three days after Seville in the Plaza de Toros de Valladolid, going out on his shoulders alone in a bill shared with Morante de la Puebla and Manzanares. The silence he provoked in the last one in San Isidro (although without sword), the Colombinas de Huelva, the Goyesca de Ronda… are some of the resounding triumphs that cement the great revelation of the season and, above all, a new illusion to go to the bullrings.
The Sevillian has not been a bullfighter to use as he took the alternative relatively late, in the Feria de San Miguel in 2017, after a career as a novillero intermittent and combined with the university of Business Administration and Management. It has undoubtedly been a slow burner, but the wait has been worth it: Seville has a new bullfighter.
There is still a season left and we can see him in such important events as the Feria de la Virgen de San Lorenzo in Valladolid, the Feria de la Virgen de la Vega in Salamanca, the Feria de la Virgen de Los Llanos in Albacete, the Feria de San Mateo in Logroño, the Seville Festival, the Feria de San Lucas… Don't miss it!